SA Kid's Karate Parents say: "SA Kid's Karate been a positive role model in our son's life. We've seen an improvement in his behavior. His grades have gone up."
S.A. Kids Karate Summer Programs
Sign up for one of our Summer Programs to help get your kids away from video games and keep them active, healthy, and disciplined ALL summer!
Ultimate Summer Experience
Your child will have UNLIMITED access to ALL evening classes for ALL of June, July, and August!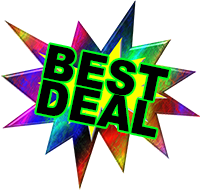 This program is designed to take your child from White Belt to Yellow Belt. They will learn all the basic handstrikes, blocks, kicks, and self-defense techniques. They will also go through our anti-bullying training just in time for the new school year.
Normally this program is $450. Save $150 by taking advantage of our early registration special price of $299! And you'll also receive a FREE uniform!
Call the Babcock (210-377-2600) or Bandera (210-256-2600) dojo now and ask about our Ultimate Summer Experience!
Martial Arts Summer Camp
Have your kid spend summer training in all areas of martial arts during our Summer Camp. This includes karate, traditional Okinawan weapons, Ju Jitsu, and the Japanese language.
Our exciting new theme-based Summer Camp curriculum also includes 2-week blocks of focused instruction, including:
Japanese Samurai Warriors
Heart of a Ninja
Gladiator Games
XMA/Sport Karate
And much more!
There is plenty to learn and even more fun at our martial arts summer camp. Your child could be the next karate kid! We have 2-week summer camp programs, as well an 11-week program, and everything in between.
We currently have several early registration specials going on, as well as family, military, and first responders discounts. Prices range from $175 to $225 per week, so call now to learn how to save money while giving your child a fun and exciting summer.
Call the Babcock (210-377-2600) or Bandera (210-256-2600) dojo now and ask about Karate Summer Camp!
---
Give Us a Call
See how we can help your child gain focus, self-discipline, physical fitness, and other attributes that will assist him or her withstand and overcome life's challenges.
Babcock: 210-377-2600 | Bandera: 210-256-2600